Dentistry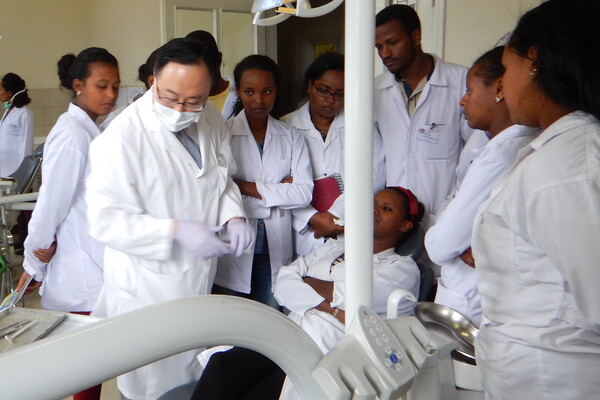 In 2014, a commitment was formed between Addis Ababa University's (AAU) College of Health Sciences, School of Dentistry and the University of Toronto, Faculty of Dentistry, culminating in a partnership under the Toronto Addis Ababa Academic Collaboration (TAAAC) umbrella.
The University of Toronto, Faculty of Dentistry provides its Ethiopian partner school support towards building capacity in oral health care in the region.  With only 11 postgraduate specialists and roughly 250 dentists in a country of over 105 million people, the Addis Ababa University School of Dentistry will benefit from advanced training at both the undergraduate and postgraduate levels.  An example of the commitment to helping the school develop postgraduate specialty training programs is in the discipline of Oral and Maxillofacial Surgery, where AAU has just commenced a specialty training program.
TAAAC-dentistry provides 2 one month trips to train the undergraduate dental students.  In the spring of 2019, the Faculty of Dentistry looks forward to sending its fifth contingent to advance student and faculty training with the help of several faculty members and two fourth year DDS peer mentors.  These contingents support training in Periodontology, Oral and Maxillofacial Radiology, Preventive and Restorative Dentistry, and become involved in a collaborative international public health research project.
In the fall of 2019 a mixed team of faculty initiated the first training trip for the 12 residents enrolled in Oral and Maxillofacial Surgery.
With each visit, we broaden our collaborative teaching opportunities and explore unique opportunities for knowledge exchange.
The Canadian Dental Association (CDA) recently profiled Dr. Nashat Cassim in their CDA Essentials magazine. Dr. Cassim is an alumni of the TAAAC Dentistry program and has been influential in educating the next generation of dentists in Ethiopia.  
https://www.cda-adc.ca/en/services/essentials/2021/issue5/30/
Program Contact Information
Dr. Joel Rosenbloom
Joel.Rosenbloom@utoronto.ca