Surgery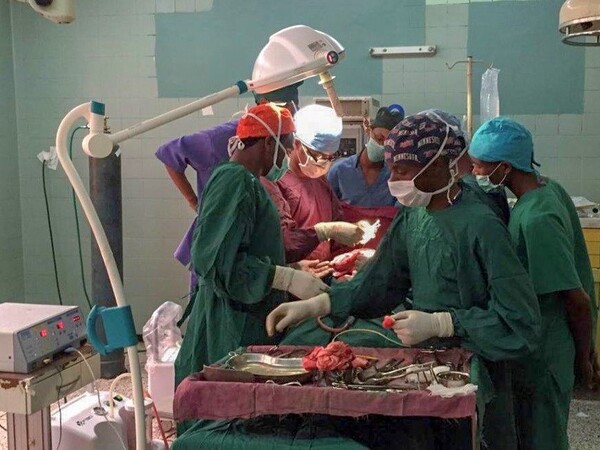 One of the leading causes of death in Africa is infectious lung disease, such as tuberculosis. Due to the prevalence of complex lung infections, there is a great need for thoracic surgery. There are currently 4 thoracic surgeons for the entire country, and at present no one is trained in minimally invasive surgery. All thoracic surgery in Ethiopia is done with large, painful incisions (thoracotomy). With traditional open surgery, there is a higher incidence of pneumonia, infections and respiratory failure as a direct result of poor pain control and increased infection and complication rates. Using minimally invasive techniques, the average length of the incision is 2-3 centimeters, as opposed to 20-30 centimeters. As a result, patients are able to be discharged faster, with a lower risk of complications.
The minimally invasive surgical project began in 2016 when two Ethiopian surgeons were invited to St. Joseph's Hospital to learn specialized, minimally invasive techniques on standardized training equipment and a surgical simulator. A team from the University of Toronto then returned to Ethiopia to assist in setting up a program in Addis using their own local equipment.  The program includes the opportunity for selected AAU candidates to apply for a2-3 month observership at UofT.
Together, we have performed a number of firsts.  In Ethiopia we have performed the first minimally invasive lobectomy (partial lung removal), esophagectomy (esophagus removal) and pneumonectomy (complete lung removal) in Sub-Saharan Africa. We have expanded our project to partner with Credit Valley Hospital to provide a month of continuous educational experience.  Our plan is to establish Addis Ababa University as a centre of excellence for Minimally Invasive Surgery which will in turn provide training to the entire East African region.
Program contact person
Dr. Michael Ko
michael.ko@unityhealth.to
Dr. Sameena Uddin
sameena.uddin@thp.ca